"I've been a daughter of Skyrim all my life. I love this land and her people"
One of the first cosplays I had a go at, which, I believe, is also the best known.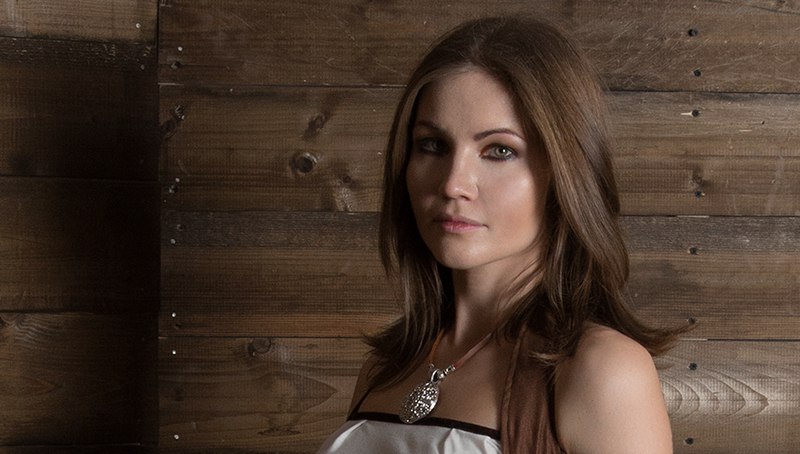 The costume was made at the end of 2013. I remember that shortly before that I'd finished working on a cosplay of Chii from the Chobits series and it dawned on me: "I can actually sew!". And indeed, up until that moment I was quite certain, for whatever reason, that I was a complete botcher when it came to sewing and would never even remotely achieve mastery of sewing skills. But Chii's dress made me realize it was well within my abilities, and then came the ambition for something more challenging.
How I became an NPC
I set my mind on making the costume the moment I saw it in the game. So simple, and yet so feminine and splendid – something that cannot be concealed even by layers of dirt that seem to coat almost every rural resident in Skyrim.
It was essentially one of those "love-at-first-sight" costumes, as I call them. The main idea here was not to role-play a particular game character but rather to recreate a look or a costume that caught my attention. That is why I decided to go for an NPC and not a specific game character. You could have easily met this girl in any of the Skyrim locations: she could have passed you by walking down the street in Solitude, sold you a hoppy brew in the Riften marketplace, or offered you lodging at a Windelhelm tavern.
There are three variations of this costume in the game: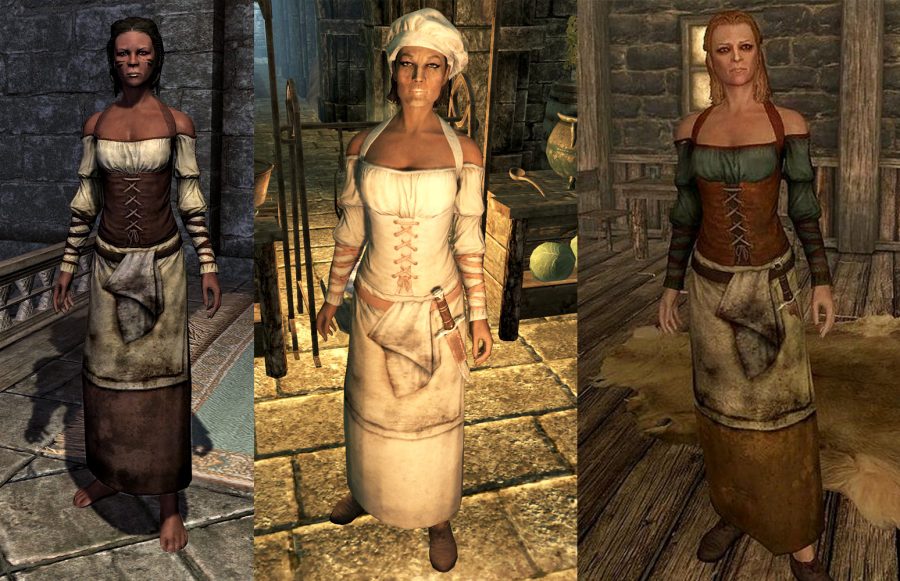 As seen above, I chose the first and the most common one.
Sewing process
Ah, good old days, back when I knew nothing about craft, the wants and needs were modest, the deadlines weren't breathing down my neck, and the costumes were sewn in a matter of weeks. It took me just around two months to make this costume, if a day more. I didn't run into any major obstacles during the whole process. Quite unexpectedly, the biggest conundrum proved to be a faux leather belt: my sewing machine didn't have a leather foot back then, like the one I use now for similar textures, and tweaking the settings had no effect either. But that, too, was overcome. The resultant costume was well turned out and form-fitting, and, most importantly, looked exactly like its virtual counterpart in the game (albeit a tad cleaner).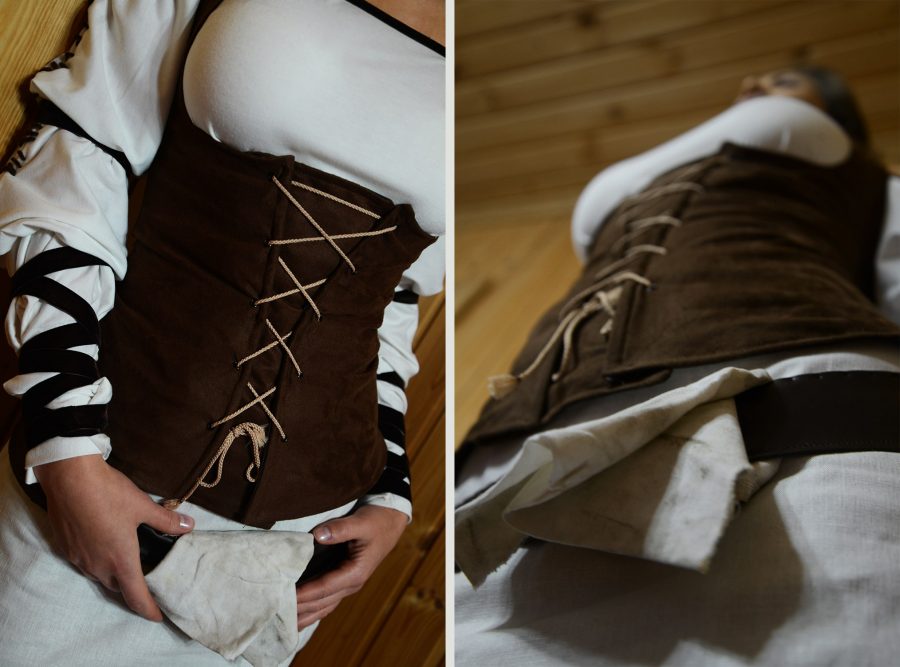 But the dust rag tucked under the belt is befittingly dirty.
Whenever I'm doing photo shoots I always try to take pictures all round, from all angles, so as to showcase the workmanship in all details. For instance, here the blouse has a lacing on the back – and mine has one, too.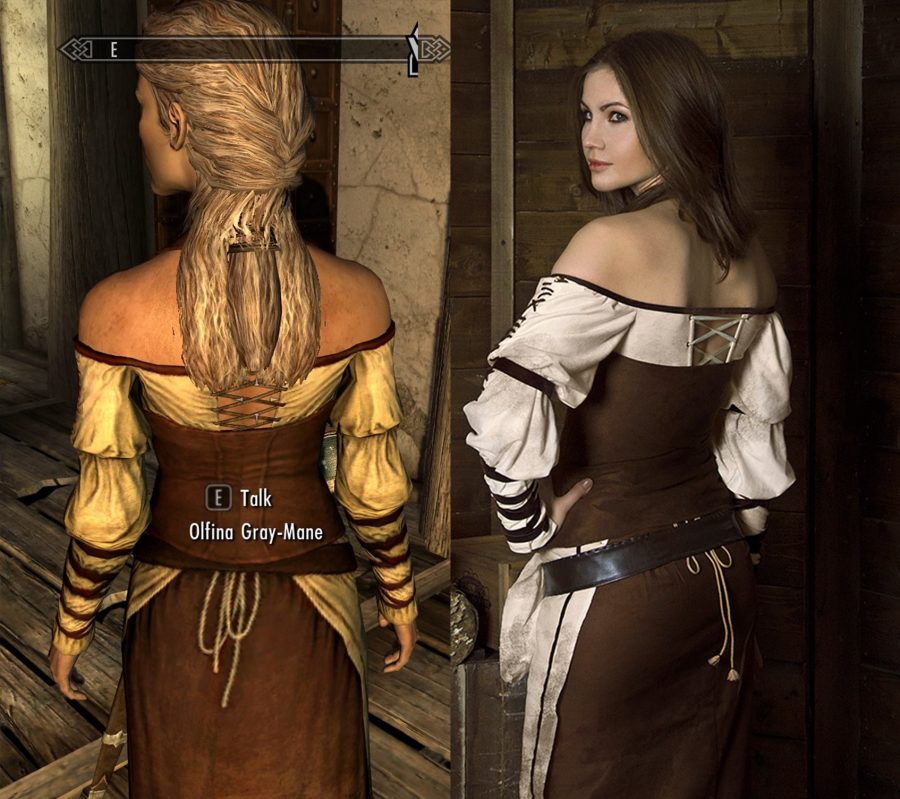 By and large, I'm quite happy with the result. Not only did the tailoring look good on the outside, but the design was also well-constructed and solid on the inside.
Three attempts at a photo shoot
Back than I didn't have a clue about cosplay, didn't attend any fests, wasn't in the know about cosplay photographers, or any photographers at all for that matter. I thought the costume was nothing too major to bother setting up a professional photo shoot, so I decided that I'd be better off with a casual one with just myself and my friends.
When you do a cosplay of a specific character, you can draw upon its backstory, its personality traits – all these constituents that can provide a basis for the shoot. My character didn't have any of that. So how do you shoot an NPC? I figured that I needed to recapture the atmosphere of the game, of those settings where we usually meet these NPCs.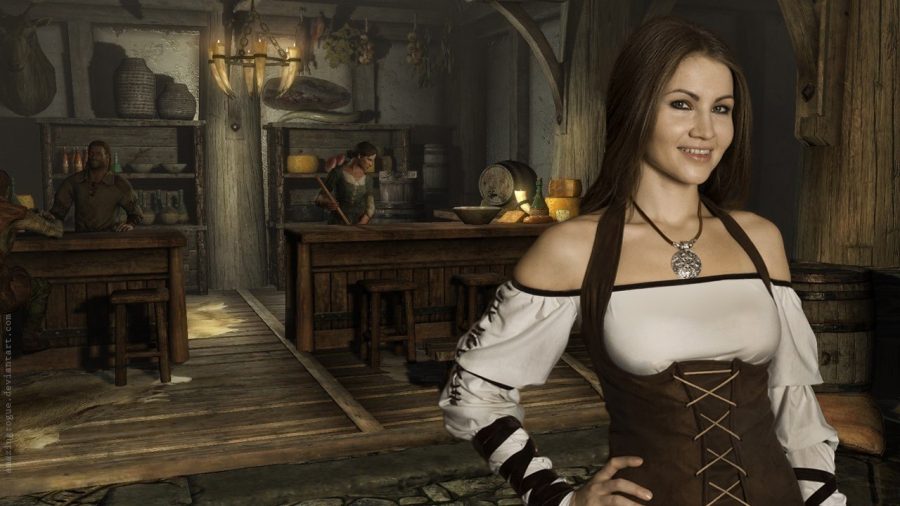 In this shot you can see a virtually true-to-life recreation of this atmosphere=)
I only posted photos from the last studio photo shoot on all my social networks, but in fact there were three (!) attempts to shoot it.
#1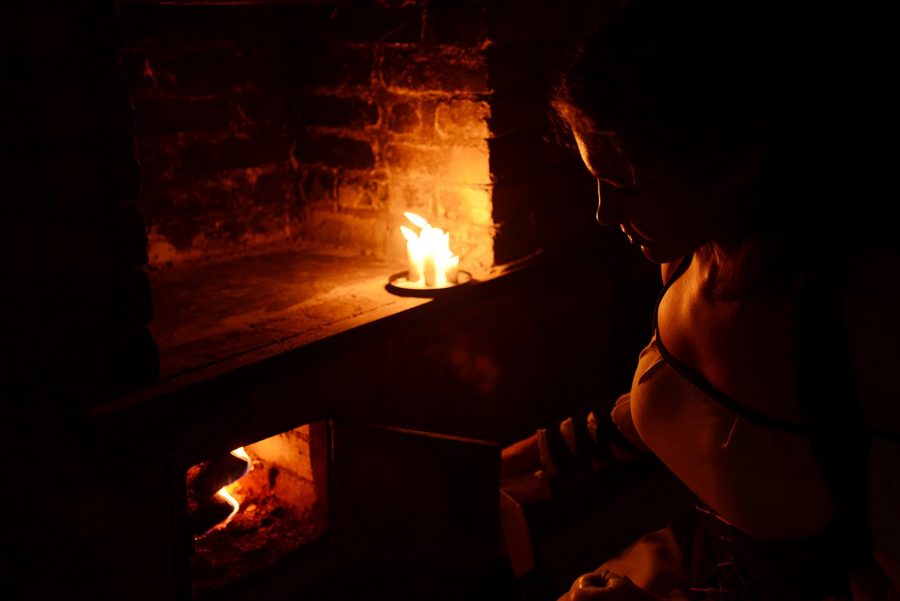 The first one took place outside the town. There, in a country house, we made use of a very atmospheric kitchen with wood-planked walls, a brick stove and a miscellany of quaint cooking utensils. But the interior was so poorly illuminated that I didn't get almost a single decent shot as a result. However, I will nonetheless post a couple of these pics here.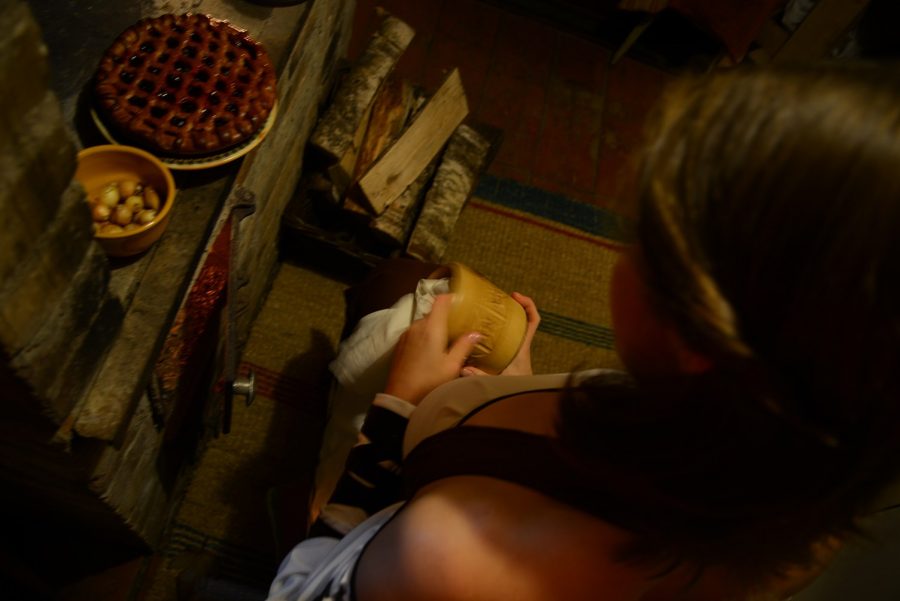 #2
After a while, we went to Veliky Novgorod to chill out and do the sights for a couple of days. There is an old fortress that dates back to the XIII c. and a plethora of ancient buildings. And I thought to myself: "Well, isn't that a perfect location for a Skyrim photo shoot!", so I took the costume with me.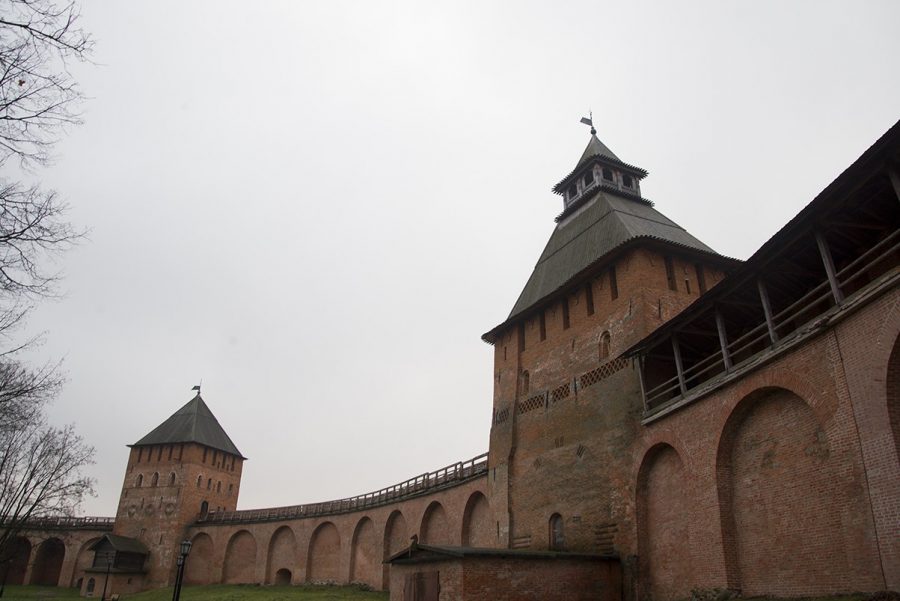 On the day when our visit to the fortress was scheduled, I was just about to get changed into my costume when…I realized that I'd forgotten the skirt and the belt (not some trifle item, but an actual skirt – almost half of the costume!). I've no idea how that happened, but it did.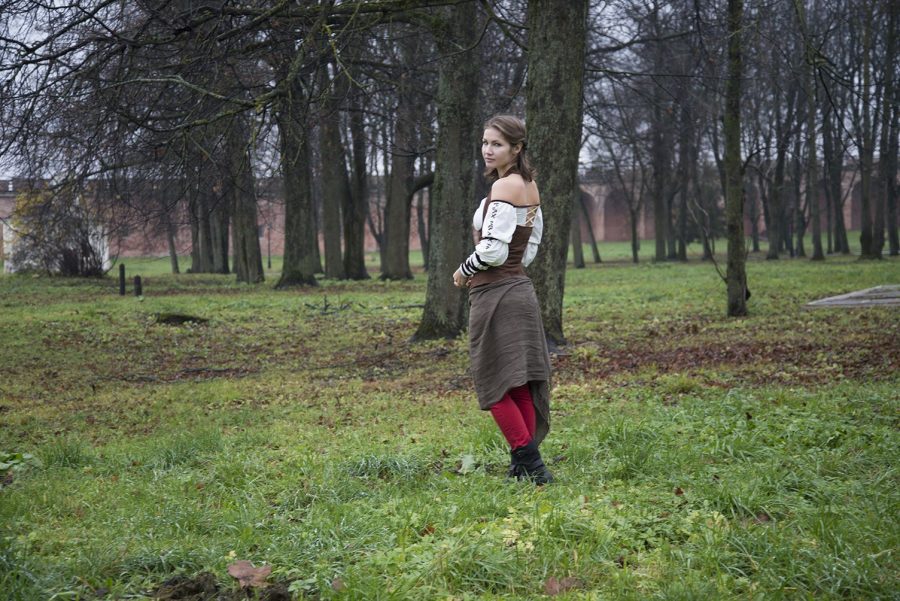 I nonetheless decided to put on whatever was left of my costume. I thought I'd manage to make at least a couple of good shots. Besides, I had a large long scarf with me that was a perfect match in fabric and color, so I wrapped myself in it as if in a skirt.
I didn't post any pics from this "photo shoot" either, but here's a couple of shots: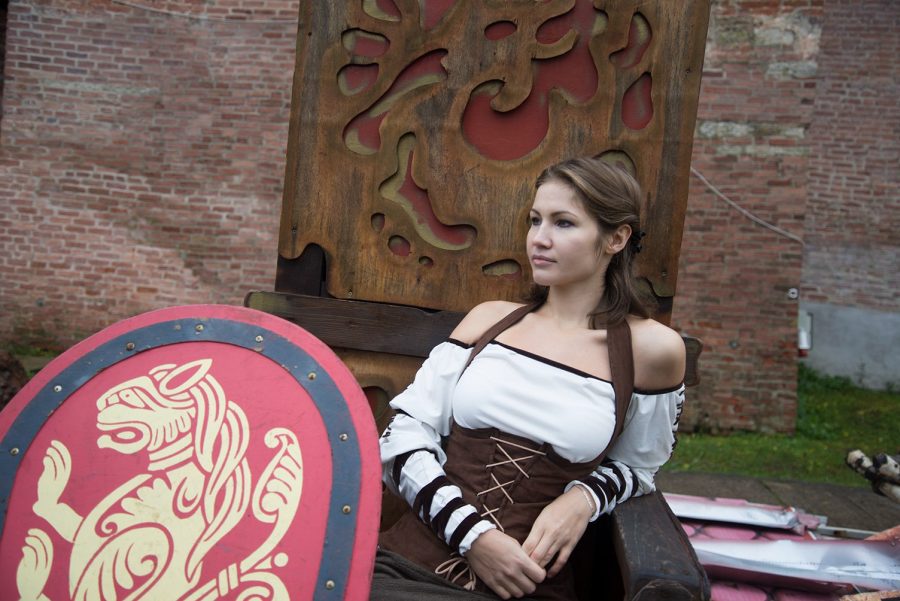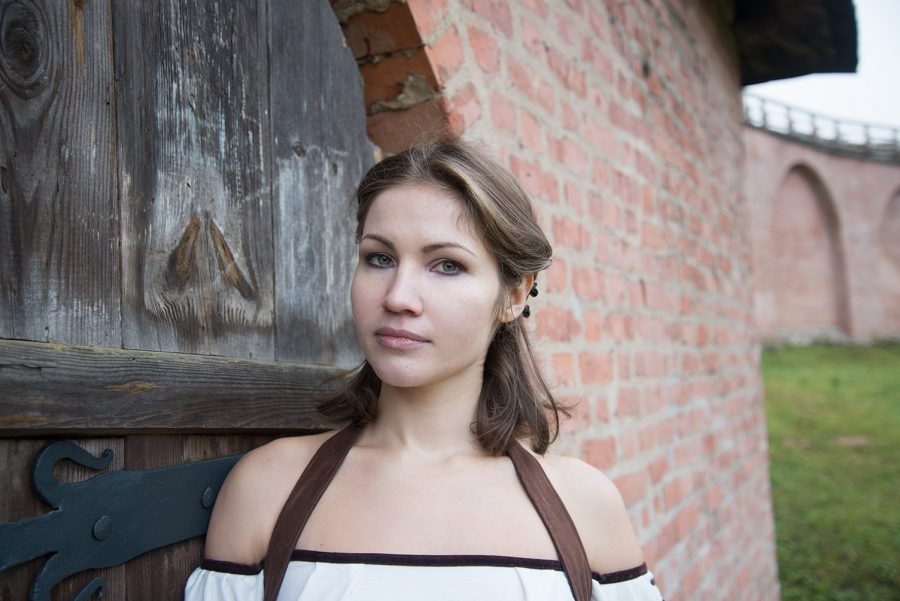 #3
And finally, the third photo shoot! There's also a funny story about how it came around. It wasn't even my photo shoot, for starters. A friend of mine rented a photo studio for 2 hours and asked me to take her pictures. The studio had five themed zones, and one of them seemed like a perfect backdrop for a Skyrim shoot. I asked my friend if she didn't mind taking some shots of my costume as well if we still had time after her photo shoot. She was up for it.
So 15 minutes before the end of our 2-hour session I slipped into my costume, set up the lighting and started posing, while my friend was taking my pictures. She's not a professional photographer, but I think she did a great job!
By the way, as for the poses: this was one of my techniques for cosplaying a character. I made a few screenshots of the most common poses that we see in the game and tried to recreate them during the shoot. And I guess the idea worked out quite nicely, since the comments often mention how spot-on the posing is.
This shot was recently chosen as a DailyDeviation on DeviantArt, although long before that it used to be the most viewed and commented pic in my gallery.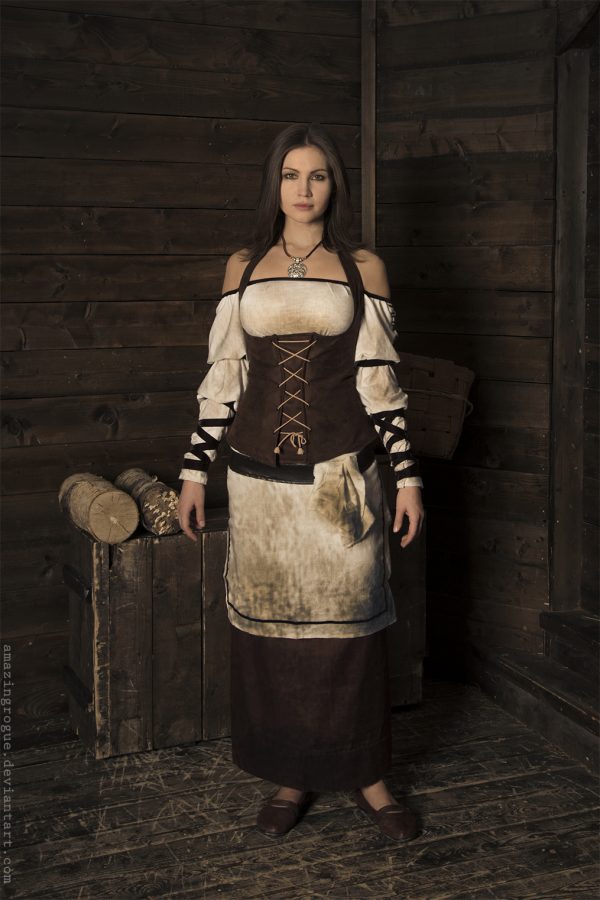 I sold this costume a while ago, it was sent to Anaheim, USA.
To be honest, there's a whole lot of costumes in Skyrim that I quite like – and I'd love to try my hand in any of them, if it wasn't for other more challenging projects that require a lot of effort.
You can see full photo shoot here.